Notice of reopening
We would like to express our sincere gratitude for your continued support.
The renovation of the store has been completed, and it will be reopened from 10:00 am on Monday, July 12, 2021.
We look forward to welcoming you to our store.

Kutani's gem,
with a wide range full of personality
Built next to the famous Kenrokuen Garden and in front of the Ishikawa Gate, Kataoka Kozando was established in 1920. The founder being a successful Kutaniyaki pottery painter,
our shop is a long-established Kutaniyaki specialty shop that lasts three generations.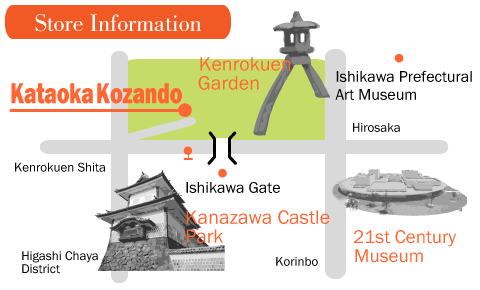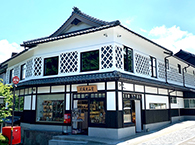 Kataoka Kozando is located on the right hand side after getting out of Kenrokuen, Katsurazaka exit.
The white grid pattern wall called the 'Namako Wall' is our shop's landmark.

※The content of this page is machine translated. Therefore, it may not be accurate, or it may be different from the original Japanese site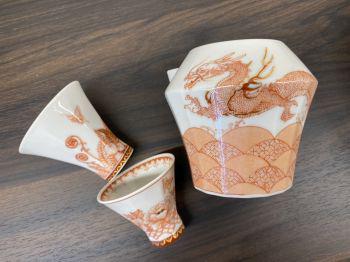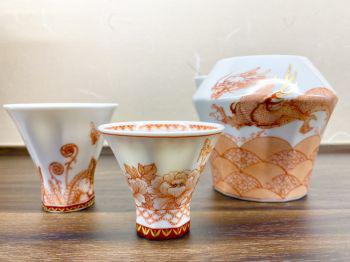 Aka-e work by Toki Horikawa.
It features delicate brush strokes and fine colors.


In front of the shop, you can spot the view of the magnificent masonry-built Ishikawa gate.
It is also located adjacent to the famous Kenrokuen garden. Spring, summer, autumn and winter, you can enjoy the nature and its rich taste every season.

Starting from 21st Century Museum, our shop is surrounded by many Japanese Art related facilities such as the Kanazawa Noh Museum, Ishikawa Museum of Modern Literature, Ishikawa Prefectural Art Museum and Ishikawa Prefectural History Museum.
Photo credit: Kanazawa City